Interactive performance
[nggallery id=57]
Idea of movement, physicality, image and sound. Body movement extends media into your own perception.
Storytelling by moving. The black stretchable suit with eight Ipods on it artist is using in transformation of physical space. Takes its own body and transform into art work.
Movement, light, sound, experience, the way how they are treated are all elements of this interactive performance that embed sound and movement. Interactive sounds reacts on movements. The values are calibrated for the artist own physicality, the sound qualities are designed in system, program, by changing samples, you play when you're entering the system.
The challenge to relate your body with technology differently. The artist is involved physically, presenting human/computer interaction on stage. It relies on idea something existing only when you are doing.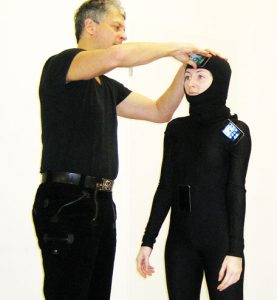 First is the artistic idea, how can I play with new tool? In this case it's the tool is the black suite with 8 Ipods that play sound and light and by the movement artist is controlling those features. For the sound artist has chosen Mozart's Sonata in G minor, divided it into eight different samples that are played on eight Ipods and it's overlapped by the movements of the Tai Chi Form 24.
It's negotiation of movement, yourself and other principle (the sound system) and to make the quality, you have to listen your movements. Control system that works, translating physicality in space into image and samples, sound, light, motion.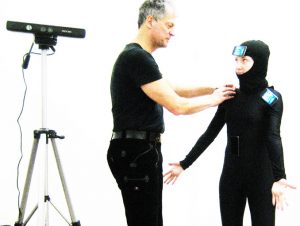 Wearing the suite as an instrument includes the whole body, it's sound/movement project about calibrating, experience level and comprehend thresholds light motion reacting on your energy; movements that make sense, designing and customizing it to deal with the energy of the move in the field. It's on the level of sensational and experimental transform into art work. Data base of poetry navigate with your own body. Interesting is to see how people behave, if you do particular movement what is happening?Transforms the body, sound, space, something that you never do naturally.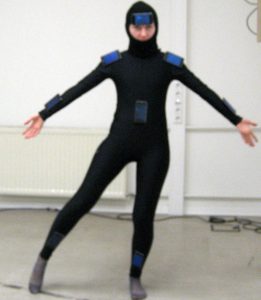 The preparation of performance is based on brainstorming, design, production and rehearsal, embraces quality notations of dance system. Tai Chi's Form 24 is used in this case for the movement and it is work with cognitive (memorize the movement) language system.