R E L A T I O N A B L E G L O V E
[nggallery id=74]
Thanks to Đejmi Hadrović and Alessio Chierico
video here
[nggallery id=75]
video here
"Relationable bracelet" is a fashionable technology project with LEDs.
In the fabric, strings 183cm long, are imbedded six LEDs in blue and red color.
There are two patterns of how the LEDs are ''shinning''. One that is corresponding to the distance between two bracelets, when the fabric strings between bracelets are stretched to the highest length of 121 cm, and the other pattern is suitable to lowest distance between two bracelets or the closeness without the distance when a two persons who are wearing the ''bracelets'' are holding hands or keeping hands close to each other. This is a project about how to encourage communication and express relationship, how to make communication and feelings between people more appealing by wearable technology.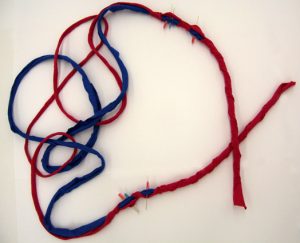 Colors have certain features that correspond to people behavior. In this project are used blue and red colors LEDs, since can influence to develop closeness in relationship where communication and feelings are important.
Wearing Blue – all shades of blue will help to make easy communication, whether it is with yourself or others.
Wear a red accent piece when you want to present yourself as bold and dynamic. It can boost your confidence if you are attending a function or interview where you feel unsure of yourself.
Although both of the colors have many features including negative and positive meanings, in this case emphasized qualities are inspiration, sincerity and spirituality, quality of communication for the blue LEDs and since red is warmest of all colors it is related to strong and dynamic emotions, its symbolism is life and vitality, quality of prosperity and joy that could be highly archived with emotions of love.
Therefore blue is the colour of communication and red is the colour of love and LEDs of these colours are highlighting those qualities in relationships between people.
The two patterns of how LEDs are shinning are showing two different speed of lights blinking. One is more dynamic and faster and the other one is slower and more calm depend on the distance between bracelets.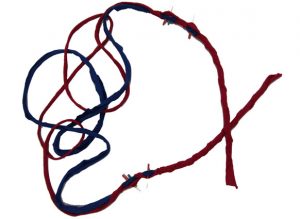 Interface Cultures,
Kunstuniversität Linz